A national initiative to reduce the number of people with mental illnesses in jails.
Recognizing the critical role local and state officials play in supporting change, The Council of State Governments (CSG) Justice Center, the National Association of Counties (NACo), and the American Psychiatric Association Foundation (APAF) are leading this unprecedented national initiative.
Stepping Up works with partner organizations to build on the foundation of innovative and evidence-based practices already being implemented across the country, and to bring these efforts to scale. These partners have expertise in the complex issues addressed by Stepping Up and include sheriffs, jail administrators, judges, community corrections professionals and treatment providers, consumers, advocates, behavioral health directors, and other stakeholders.
Since May 2015, more than 500 counties have passed resolutions to join. To see the full suite of the initiative's resources and materials, and to learn more how to join the effort, visit the official Stepping Up website at StepUpTogether.org.
---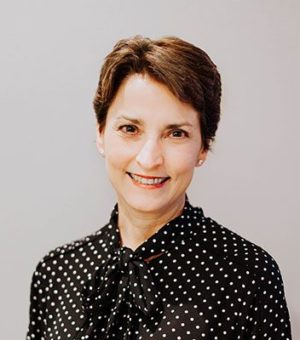 Risë Haneberg
Deputy Division Director, Behavioral Health
Risë Haneberg provides technical assistance to county systems improvement projects, the Stepping Up Initiative, and Justice and Mental Health Collaboration Program grantee sites. Before joining the CSG Justice Center, Risë served as the criminal justice coordinator for Johnson County, Kansas,
...
from 2008 to 2014. In that role, Risë provided staff support to the Johnson County Criminal Justice Advisory Council and facilitated the coordination of criminal justice-related activities for the District Court, the sheriff's and, district attorney's offices, the Department of Corrections, the Court Services Department, and the Johnson County Mental Health Center. Her work in Johnson County involved both the juvenile and adult divisions, and major projects included a Justice and Mental Health Intercept Project, Second Chance Reentry, the Juvenile Detention Alternatives Initiative, and justice reinvestment at the local level. Risë previously served as the chief court service officer of the 10th Judicial District Court in Johnson County, and began her career in criminal justice as a juvenile probation officer in 1979. Risë holds a BS in criminal justice from Wichita State University and an MA in public administration from the University of Kansas.
Read More
Kati Habert
Program Director, Behavioral Health
Kati Habert manages the onsite county technical assistance, including county projects, through the Stepping Up Initiative. She previously worked with the National Reentry Resource Center to provide policy reviews and recommendations to state- and local-level grantees focused on reentry, correctional
...
practices, family substance addiction treatment, and co-occurring substance addiction and mental illness. Prior to joining the CSG Justice Center, she worked as a senior associate with the National Association of Counties providing criminal justice technical assistance to counties. She graduated from the University of Maryland with a BA and MA in criminology and criminal justice.
Read More